ตัวแทนจำหน่าย EXEN Pneumatic ball vibrator CH32A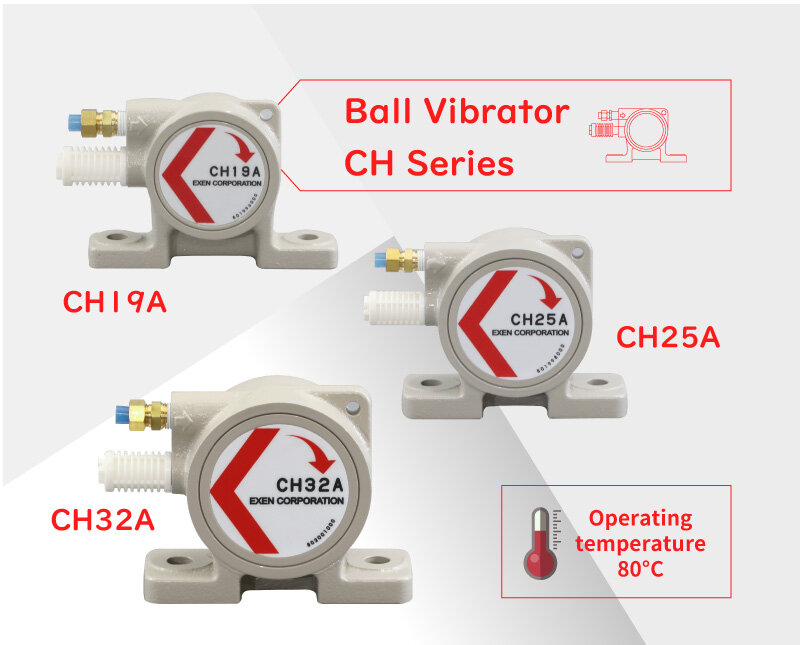 Since no bearings or complicated seals are used, it is durable and easy to maintain. No need to lubricate. Since it has a closed structure, it can be used in dusty places and has excellent water resistance. The frequency and centrifugal force can be freely adjusted by air pressure. There is no danger of compressed air power source, electric leakage exhaust gas explosion, etc.

Transportation : Vibration source of various feeders, vibration source of various conveyors.
Outflow : A vibration source to prevent adhesion and clogging of various hoppers, chutes, transport pipes, etc.
Filling : A vibration source for packing powders, solids, etc. in bags and cans.
Sorting : Screen vibration source.

Air Pressure : (Vertical start) 0.20, (Horizontal start) 0.02(MPa)
Air Consumption : 0.22~0.40 (Nm3/min)
Operating Pressure : 0.2~0.6 (MPa)
Centrifugal power : 1.22~2.11 (kN)
Frequency range : 104~137 (Hz)
Height : 106.5 (mm)
Width : 159.5 (mm)
Mass : 2.4 (kg)
Trusco Part No. : 421-6407
Length : 51 (mm)

!!Caution
This product is manufactured in Japanese standards.
Some products may not meet the standards of your item.
Please check the specification carefully before you order.
ติดต่อขอใบเสนอราคา ช่องทางโทรศัพท์ และ ไลน์
คุณจุฑามาศ (กุ๊กไก่) : 094-725-7072
E-mail : pneutecthai@gmail.com
Line : @pneutecthai